Would You Like to Assess Your Current Situation
AND
Learn 5 Strategies to Create a Graceful Transition?
I would love to offer you an assessment for FREE!  This tool, valued at $19, will help you identify clearly where you stand today and where you want to be at the end of your transition.  By answering 5 significant key questions, it will enable you to sort out your thoughts and understand your current situation.
But that's not all.  
How about getting strategies that you can use and apply right away?  Yes, this assessment goes one step further. Not only will you assess how you're faring in your current or upcoming transition, but you will also have 5 simple, yet powerful nuggets that will help you navigate those big changes gracefully; to be able to balance feeling in control with going with the flow.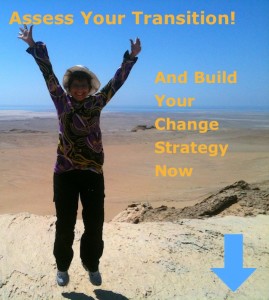 Sign up to the mailing list below to download your personal assessment!